Mom Picks for Best Modern Wooden Play Gyms
Skip the plastic and opt for simple designs to engage and delight your baby.
Let's be honest: Most baby gyms look like a primary color explosion of yikesness. And yes, I owned one and found it an absolute lifesaver at that bewitching hour when every child under 1 starts crying right when you need to be cooking dinner. But whenever company arrived, I would try to nudge the brightly-colored eyesore into a corner where it was at least partially hidden from its "LOOK AT ME" color scheme. But these gorgeous wooden play gyms featured below? These I might just leave in the middle of the living room - on purpose.
Related: The ten best wooden play kitchens for kids
I love that these modern wooden baby gyms keep your little one entertained without screaming for attention. Simple is better. I've rounded up a few of my favorites and can't wait to gift one of these very soon.
Best Wooden Play Gym to Keep Baby Busy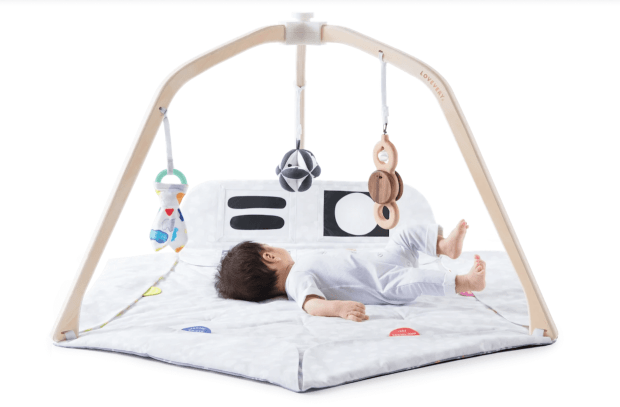 Give your child the best possible start with the play gym that gives you a whole year of play. I love the system of interchangeable "cards" that can be set up to keep this toy fresh. The Parents' Choice award-winning play gym includes everything your child needs in an activity gym and play mat—from batting to teething to learning to focus—for playtime and tummy time with purpose. You might even get to enjoy a warm cup of coffee if you set baby up with this tremendous toy. It was designed by child development experts and crafted with safe, healthy and durable materials for babies ages 0+.
Best Use of Animals in a Play Gym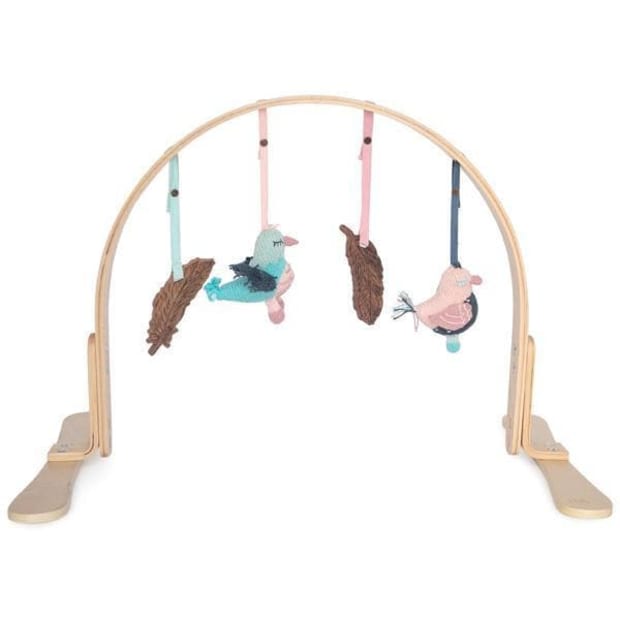 This height-adjustable play gym has a 100% birch wood frame finished with non-toxic stains and lacquers, The wooden teething toys are made from untreated Indian hardwood and finished with vegetable seed wax. The knit toys were hand-knit at an artisanal women's collaborative in Peru using G.O.T.S. certified organic cotton yarn. This truly is a toy that keeps on giving. All play gym dolls are removable—they can be used away from the gym as stroller or carseat toys and other "Stroller Toys" fit on the gym.
Get at FinnandEmma.com here ($135)
Best Value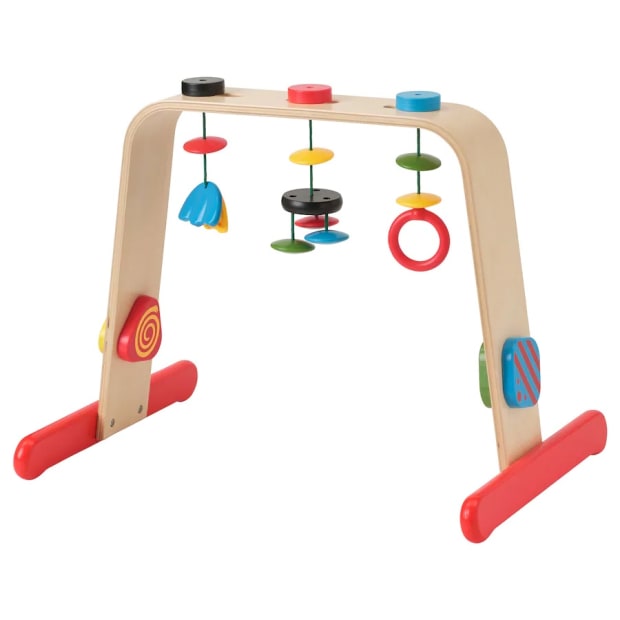 For a wooden play gym that doesn't empty your pocketbook, try IKEA's molded birch LEKA baby gym for under $30. The equipment in this gym comprises of colorful toys that your baby will want to play with. Fun training that helps your baby develop hand-eye coordination.
Pick it up on your next trip to Ikea.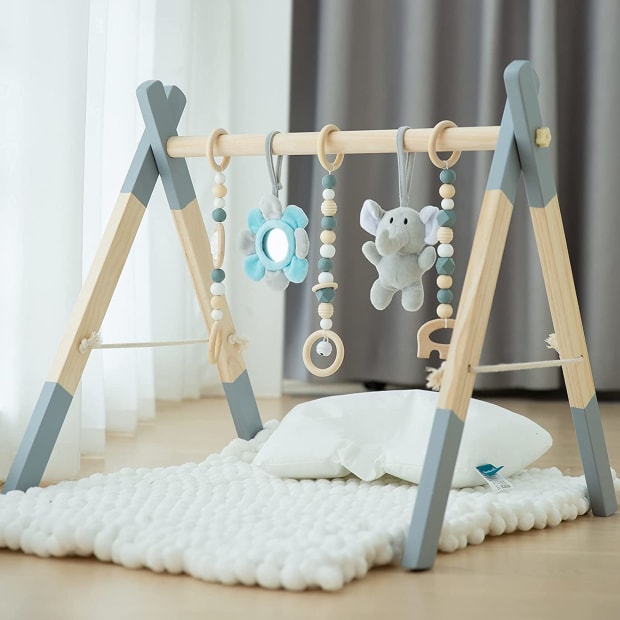 Best Vibe for a Wooden Play Gym
This foldable play gym is easy to set up and folds away simply. It comes with 3 wooden toys and 2 soft toys. I'm swooning over the gorgeous colors and textures. This is nice for moving it around the house. It folds flat easily. The legs easily close together as they are held from sliding apart by a rope. This makes for easier carrying around the house or storage. It's very portable. It is simple to move around the house with one hand, to store away, or even to take on a road trip for the hotel stay. 
Best Sensory Experiences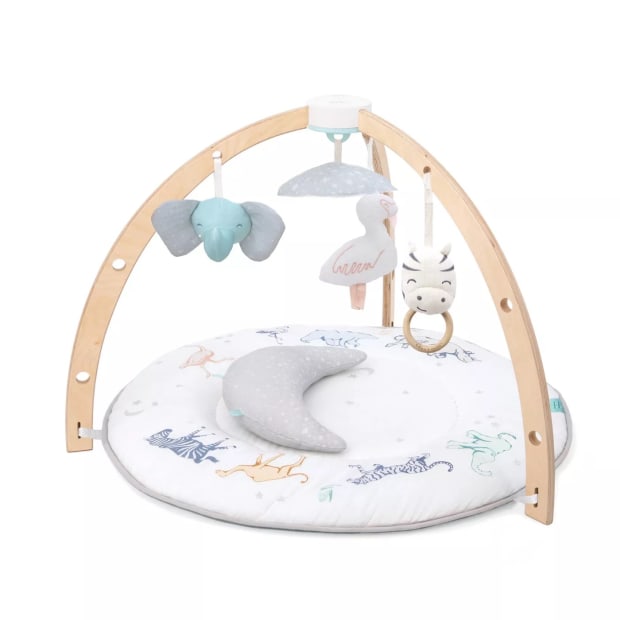 The aden + anais Play+Discover Activity Gym might look simply, but it features 30+ developmental benefits. That's a lot of brain and muscle development in one pretty toy. The brand is known for prints and fabrics, and this toy fits right into the line. The baby-friendly 100% cotton muslin baby gym is thoughtfully designed to keep your baby playing and learning as they meet key milestones. This product is perfect for babies starting from newborns to 12 months.
Best Gym to Put Up on Instagram 
I love showing off small brands like Poppyseed Play. They've dreamed up a simple design that ships flat. Their wooden baby gyms are made of smooth, sanded wood. They ship unassembled with wood legs, hanging dowel, two ropes, and two wooden knobs. No tools required for assembly. I'd pick the natural finish (it's also available in White Pine - white paint on the bottom half of the leg). When you're setting up your gym, you can simply tie some of your favorite baby toys around the hanging bar or slide them on before you attach the legs to both sides of the hanging bar.  Comes with four gray toys to attach. 
Get it at Poppyseedplay.com $89
Best Use of Color in a Baby Play Gym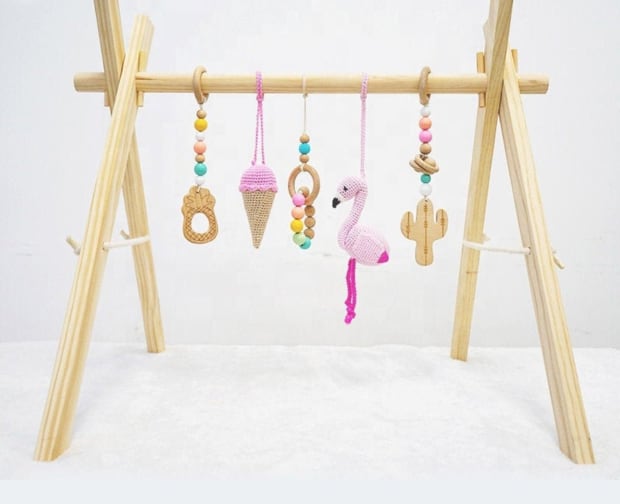 You had me at the flamingo! I love the feel-good colors and tropical vibe of this lovingly crafted play gym I found on Etsy. The maker is based out of Vancouver and has awesome creations--each item is unique, thoughtfully designed and full of love and warmth. A basic A-frame construction with a fixing rope ensures stability while a baby is playing. No screws are used.
Get it on Etsy here ($61)
Which is your favorite wooden baby gym?
MORE TOY PICKS FROM MOMTRENDS
PIN IT!
Need more ideas on what to do with the kids? Be sure to follow our Activities to Do with the Kids board on Pinterest here.

Momtrends was not paid for this post.