10 Best Folding Treadmills Of 2019 Reviews And Buyers Guide
For most of us, regular exercise feels much like a chore that we would do anything to avoid, especially if that means sleeping in for an hour longer. But those excuses are soon becoming a thing of the past as technology catches up with all the lazy and/or busy folks among us.
The market is now flooded with a whole range of workout equipment designed exclusively for home use. This article is about folding treadmills. Yes, a treadmill for walking, jogging, and running is part of most exercise regimens at any gym. But the most significant deterrent to bringing one home is the sheer size of the device. Thats where a folding treadmill comes in.
We have listed the 10 best folding treadmills you can buy, along with a buyers guide. Scroll down to get started!
What Is A Folding Treadmill?
A folding treadmill is the perfect space-saving exercise equipment when you want to work out in the comfort and privacy of your apartment. Here, the running deck can pivot up and lock, so you can fold it and put it away after your workout. It also has wheels that make it easy to move from one place to another. A folding treadmill is ideal when you want to stay fit and active without compromising on aesthetics or space in your apartment.
Read on to know more about the best folding treadmills and things you need to keep in mind before investing in one.
Top 10 Folding Treadmills
1. NordicTrack T6.5S Treadmill
NordicTrack T6.5S Treadmill is the latest entry-level addition to the brands impressive lineup of treadmills. Its biggest advantage over other starter treadmills is the interactive training it offers through the multi-color, touch-screen console. You can use it to Livestream fitness classes or run trails around the world. If you prefer things old-school, just plug in your iPod or phone and enjoy running with music for company. The multi-speed console fan keeps you cool as you burn those calories.
The inbuilt iFit uses Bluetooth to adjust the incline and speed of your treadmill automatically according to trainer recommendations. You can also change the settings to make the belt mimic firm ground and real-life terrain. The T6.5S gives you a quiet workout at home, and you can use it for walking, jogging, or running with equal ease.
Pros
30-day free iFit trial membership
5 backlit iFit display
Auxiliary music port
Dual 2 digitally amplified speakers
300 lbs. user capacity
Lifetime frame warranty
25-year motor warranty
1-year parts and labor warranty
Cons
2. Sunny Health & Fitness SF-T4400 Treadmill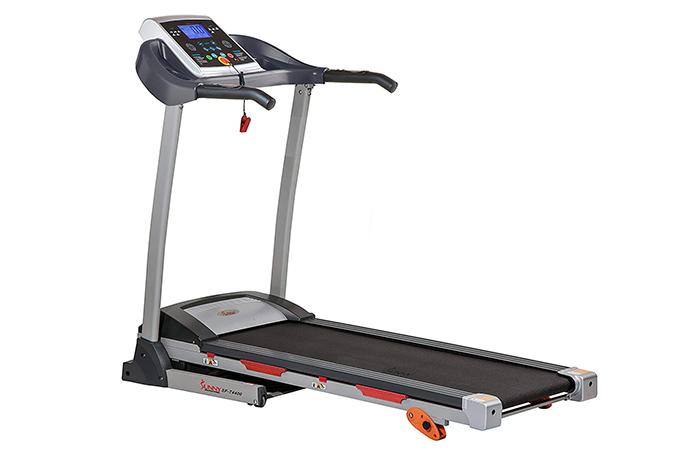 Sunny Health & Fitness SF-T4400 Treadmill has several fantastic features to make your daily workout routine as comfortable and accessible as possible. It has nine built-in workout programs that you can choose from and enjoy more variety as you exercise. Theres also a phone/tablet holder if you decide to work out with your favorite tunes playing.
The SF-T4400 is a folding treadmill, but you need not worry about loud slams or unnecessary clanging while opening it. The soft drop system helps make the process both smooth and silent. It also prevents damage to wood or carpet floors. The LCD screen enables you to track your time, speed, distance, calories, and pulse, so you can stay aware of your fitness goals.
Pros
LCD monitor with tablet holder
9 built-in workout programs
Safety lock function
Power saving function
Convenient handrail control keys
Soft drop folding system
3 manual incline levels
220 lbs user capacity
Cons
3. Xterra Fitness TR150 Folding Treadmill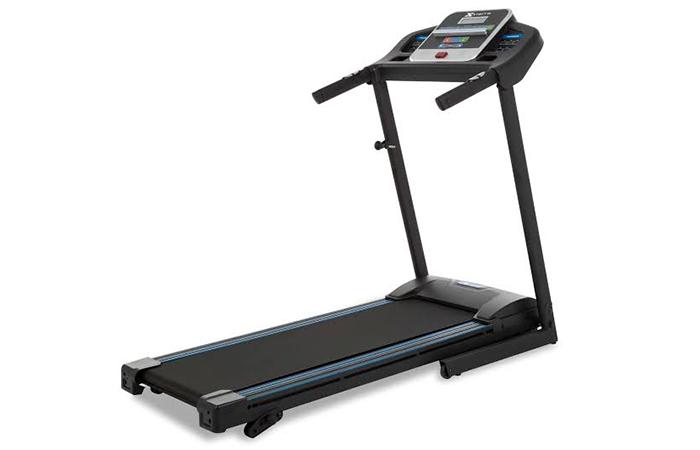 Xterra Fitness TR150 Folding Treadmill is an impressive blend of quality, performance, and flexibility. Even though it has been designed to function in a home environment, this treadmill is impressive in helping you get the most out of your workouts without hitting a gym. You can easily fold and store it away when you are done, making it a space saver.
Several features adhere to the users performance and comforts, such as the accessible console, the handgrip pulse sensors, the integrated accessory holders, and more. The quiet 2.25HP motor ensures a noiseless workout, so you can exercise in peace without disturbing others at home.
Pros
Large 5 inch LCD
12 preset workout programs
3 manual incline settings
Heavy gauge steel frame
Folding deck design
Integrated accessory holders
Handgrip pulse sensors
Cons
Some parts may get damaged in shipping.
4. SereneLife Smart Digital Folding Treadmill SLFTRD18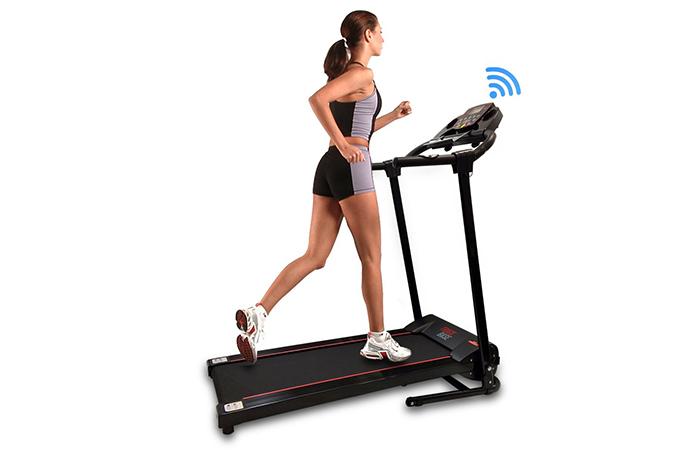 SereneLife Smart Digital Folding Treadmill SLFTRD18 uses Bluetooth to sync the device with the FitShow sports app. This app helps transform your boring exercise routine into an exciting fitness session. The treadmill is foldable and portable, so you can set it up and store it with convenience. The LCD screen on this smart digital device shows your running and training data statistics to help you keep track of your progress.
Choose from several preset training modes to enjoy a customized fitness session. You can adjust the speed settings up to 6 mph for a more intense workout. The built-in grip sensors monitor your pulse and display the same on the screen along with run time, distance, speed, heart rate, and calories burned.
Pros
Pairs to a smartphone app using Bluetooth
Large backlit LCD
Powerful with quiet motor
Extended running deck
Soft drop folding system
Transportation wheels for easy portability
Adjustable speed settings
Cons
Belt is not wide enough.
May not be suitable for overweight users.
5. Confidence Fitness TP-1 Electric Treadmill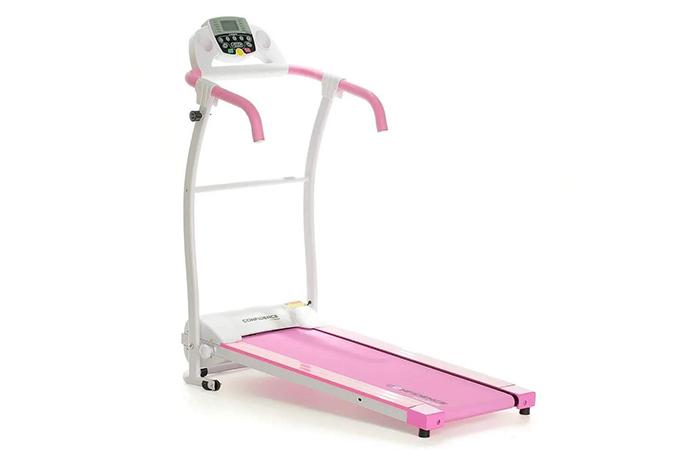 Confidence Fitness TP-1 Electric Treadmill is easy on the eyes with a soothing combo of pink and white. This model serves a lot more than just looks. It has a menu of 12 preset programs that you can choose from to give your workouts a dose of variety now and then.
It has a sturdy steel frame, so you can be sure this is a durable piece of equipment. If you still want that beautiful color out of your eyes when you are not exercising, fold it up and store it away until needed again. The backlit LCD screen has an easy-to-read display where you can keep track of your workout statistics and fitness goals.
Pros
12 preset programs
Large backlit LCD screen
Sturdy steel frame
5 quick select preset speeds
Cup holder included
Front-wheel for easy portability
User weight capacity up to 250 lbs.
Cons
Running belt not wide enough.
May not be suitable for taller users.
6. MaxKare Folding Treadmill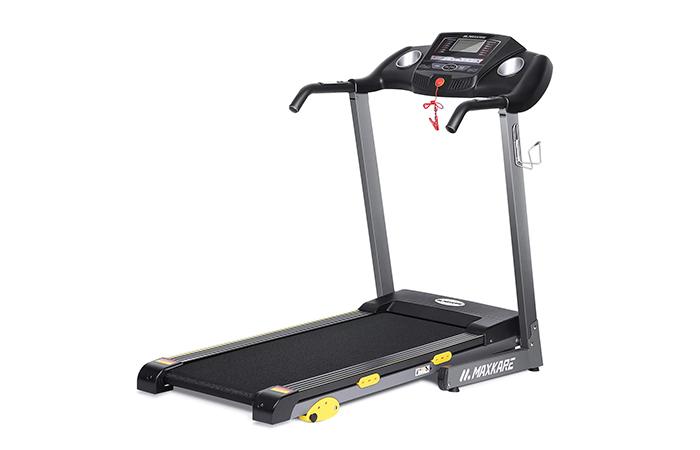 MaxKare Folding Treadmill lets you enjoy the endorphin rush or running and working out within the comfort and privacy of your home. The powerful motor allows for speed adjustment ranging from 0.5 to 8.5 mph. Three manual incline levels enable you to vary your workout according to your needs.
The running belt is 17 inches wide, and the machine is equipped with an innovative anti-shock system that can support a maximum user weight of up to 220 lbs. This keeps your knees protected against injury during exercise. The large LCD and 15 preset programs give you a varied and comprehensive workout, with easy-to-track data on your fitness statistics.
Pros
LCD with 15 preset programs
Heart rate monitor
5HP pure-copper motor
5 to 8.5MPH available speed
220 lbs of maximum weight support
Anti-shock system
Cons
May not be suitable for taller users
Machine not as quiet as advertised
7. Ravent Folding Treadmill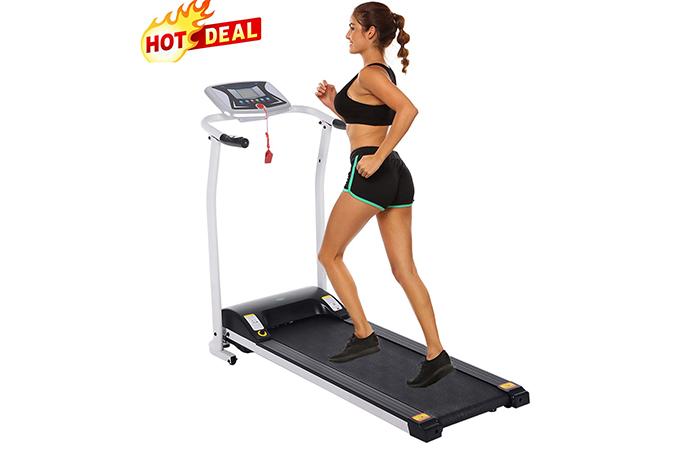 Ravent Folding Treadmill is a convenient workout solution when coping with a busy lifestyle that leaves you no time to go to the gym. It is portable and foldable, so you can use it in the comfort of your home and put it away when not in use. It features multiple workout programs, several speed settings, and a backlit display where you can track distance, time, and calories burned.
Theres also a pulse monitor to measure and notify you of your heart rate. The secure folding mechanism and soft drop system on this treadmill help you unfold your treadmill safely without unwanted banging or clanging. It is available in attractive shades like silver, white, and orange.
Pros
Sturdy steel frame
Handrail controls to speed up, start, and stop
Wheels for easy portability
Safety clip for an automatic stop
220 lbs weight capacity
1-year warranty
Cons
Short handles
May not be suitable for taller users.
8. Merax Electric Folding Treadmill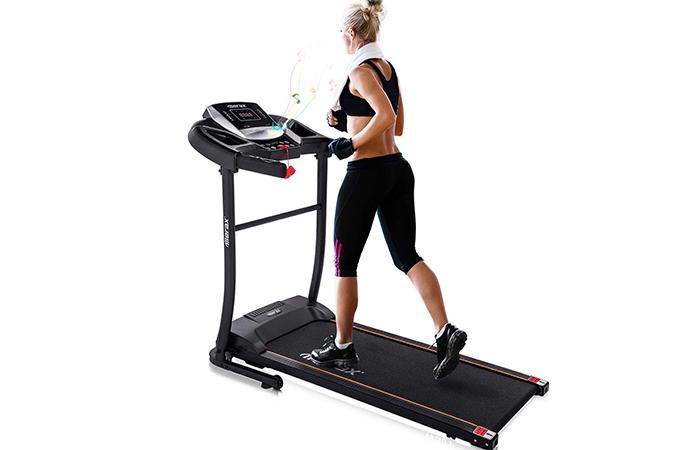 Merax Electric Folding Treadmill lets you work out the way you want to: comfortably at home, with your favorite music blasting in the background. It has a compact footprint and a convenient folding design that is easy to set up and store away. It is easy to start, stop, or switch speeds using quick touch buttons conveniently placed on the side handles.
This Merax treadmill also features a specially designed, high-density running belt with a lawn texture. It is shock-absorbing and non-slippery to give you superior comfort and safety. The sturdy frame is capable enough to support serious runners who prefer long-distance running sessions. For constant motivation, the LCD tracks your time, speed, distance, and calories burnt.
Pros
12 preset programs
3 count-down modes
Quiet 1.5HP treadmill motor
Multi-functional LCD
Wheels for easy portability
Supports maximum user weight up to 240 lbs
Cons
Speedometer may be inaccurate.
The belt is too narrow.
9. Juane Folding Treadmill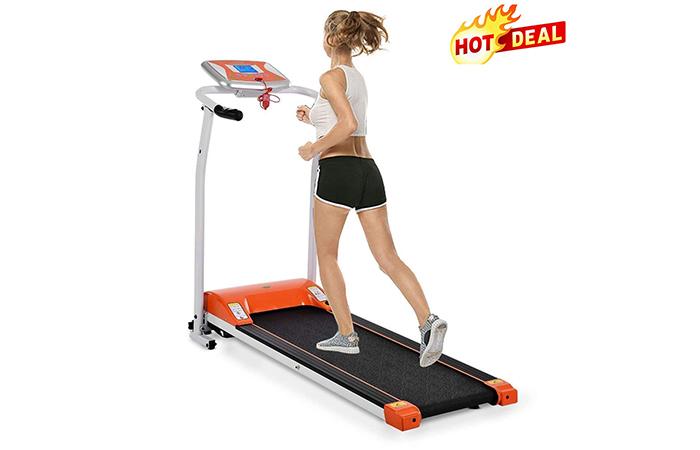 Juane Folding Treadmill is a durable piece of workout equipment that blends a sturdy design with easy space-saving functionality. Burn calories regularly with your preferred workout, without having to disturb others at home the low noise motor takes care of that. Whether your ultimate goal is weight loss or just staying in shape, the Juane treadmill is a good fit for at-home use.
The multi-functional LCD helps track your progress you can check the distance, speed, and time and monitor your heart rate and the number of calories you have burned. The anti-slip, anti-static lawn texture belt keeps you safe and comfortable even when running at high speeds.
Pros
Space-saving design
Supports maximum user weight up to 220 lbs
Multi-functional LCD
Low noise motor
Auto-stop safety function
Cons
The belt is too narrow.
Not suitable for serious running.
Not ideal for taller users.
10. Gymax Folding Electric Portable Treadmill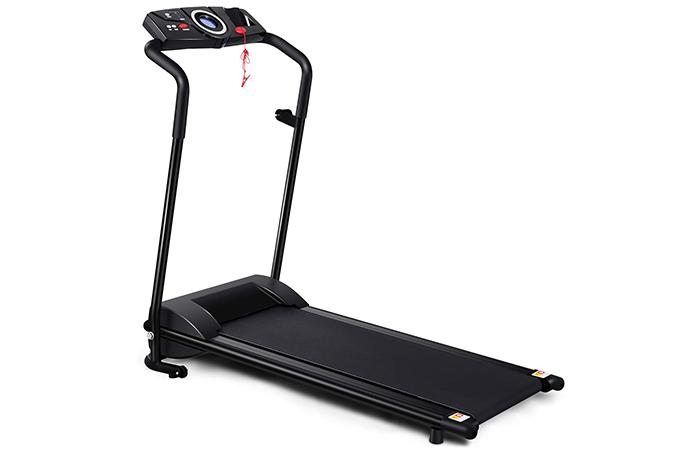 Gymax Folding Electric Portable Treadmill has a silent yet powerful motor that can reach a running speed of up to 6.5 mph. The high-quality steel frame is durable enough to support your chosen running speed while being quiet not to disturb your family or neighbors. It folds up quickly and takes up little space, making it a stylish fit for small apartments.
The display screen is an elegant round shape and helps you keep track of time, running speed, distance, and calories burned. The non-slip shock-absorbing running belt, along with the security key, lets you run safely and protects your knees from injury. There are 12 built-in programs that you can choose from for a more varied workout.
Pros
12 preset programs
Quiet 1 HP treadmill motor
Adjustable running speed
Wheels for easy portability
Cons
Narrow running belt
Not suitable for tall users
Flimsy controls
Not ideal for vigorous workouts
Lets look at the benefits of a treadmill in the next section.
Benefits Of Using A Folding Treadmill
1. Storage
The most significant advantage of investing in a folding treadmill is the ability to store it away out of sight, when not using it. A treadmill is large equipment that admittedly takes up a lot of space. This can be particularly discouraging if your apartment is already low on space. The space-saving design of a folding treadmill also comes in handy if you are used to having people over, but dont want your treadmill to be standing in one corner, looking like an eyesore.
2. Portability
Most folding treadmills also come with wheels attached at the base of the device. This makes it portable so that you can shift it to and from storage without any hassle. The size of a regular treadmill is intimidating enough that you would think twice before moving it around. But the wheels in a foldable treadmill make portability quite convenient.
3. Fitness
This is a no-brainer. With storage and portability taken care of, theres no real deterrent to bringing a folding treadmill home. When regular exercise is more accessible, your health and fitness levels are sure to improve. Irrespective of your fitness goals whether it is weight loss, muscle building, or improving your cardiovascular health a treadmill is worth investing in for good health.
4. Ease Of Use
Treadmills are not very complicated. They are easy to use and help you keep track of your progress across time, distance, speed, your heart rate, and the calories you have burned. The flat and predictable surface of the running belt is safe to use, eliminating any fears about injuries from running on uneven terrain. Also, for busy people with no time for the gym, treadmills can be combined with leisure activities, such as watching a movie or listening to music, for a more fun workout.
5. Preset Workout Programs
Most treadmills these days come with a digital monitor and a menu of built-in workout programs that help add variety to your workouts and make them more interesting. These programs can change your running speed or make the incline more steep to prepare for a more challenging session. Some treadmills also have the option to allow you to program your routine for a more customized workout according to your requirements.
If you have decided that a folding treadmill is the right fitness investment for you, hold on. Before placing your order, take a quick look at some factors that can help you choose the best folding treadmill for your needs.
Things To Keep In Mind When Purchasing A Folding Treadmill
1. Purpose
The first question you need to ask yourself is why you want to purchase a treadmill. The answer could be walking, jogging, running, or just light activity to keep yourself mobile. Depending on your requirements, your preferred treadmill could be a primary budget device or something high-end with advanced features, meant for more intensive training.
2. Budget
Your budget needs to be a crucial consideration of every purchase, especially for equipment like treadmills that do not come cheap. Remember your needs and be practical about how much you are going to be using it before going all out and splurging on an overly complicated model.
3. Space
Another critical factor to consider is the space available in your home for a new treadmill. While a folding treadmill is inherently space-saving, you still need to decide where you are going to put it away when it is not in use. Before purchasing, make sure that the device folds properly and is appropriately sized for your home and storage space.
4. Running Surface Area
The running deck needs to be long and wide enough for you to gain the most out of your workout. This does mean that you may end up with a larger sized treadmill, but it will also be better suited, especially if you enjoy running or are tall.
5. Motor Size
A more powerful motor is responsible for a more durable treadmill. Better motor performance also makes the treadmill strong enough to handle high speeds. If running and sprinting is more your style than walking or slow jogging, make sure that the motor of your treadmill is up to the task.
6. Technology And Connectivity
The variety of treadmills available today have spoiled the consumer for choice. Take a look at all the surplus features your chosen model delivers before making a purchase. Some machines give you access to different training apps using Bluetooth, while others have larger display screens and more sophisticated controls. You can take your pick from several levels of technology based on your personal preference.
7. Construction Quality
For the amount of money you will be investing, your treadmill should be durable enough to stand the test of time. Check that all the parts and the device are high-quality, require minimum maintenance, and are covered under a manufacturers warranty.
That was our round-up of the best folding treadmills of 2019. We hope the buying guide helps you make an informed decision on the folding treadmill best suited to your requirements. Getting fit and in shape is just a few steps (or sprints on your new treadmill) away!
Experts Answers For Readers Questions
How much horsepower does a folding treadmill need to have?
It depends on the kind of workout you are looking to get out of your treadmill. 20 CHP (Continuous Horsepower) is enough for low-intensity activities like walking or slow jogging. Faster jogging requires 2.5 CHP, while serious runners should consider treadmills with a CHP of 3.0 or above.
What are the safety features built into folding treadmills?
Depending on the model, safety features vary across different devices. However, the two most common ones that are absolutely vital are (a) a lock to prevent the running deck from falling back once it is folded up, and (b) a safety key that needs to be inserted into the treadmill for the machine to power on. This prevents misuse and injury, especially if there are children in the house.
Is it easy to move a folding treadmill?
It is if the treadmill has wheels below the deck. If you are planning on storing the treadmill somewhere different when not using it, it is ideal to invest in a treadmill equipped with wheels for the job.
The post 10 Best Folding Treadmills Of 2019 Reviews And Buyers Guide appeared first on STYLECRAZE.