Chicken and White Bean Chili with Anaheim Peppers
The other day we had a huge dilemma in front of us. Do we do yard work or make some chicken and white bean chili. Well I guess it wasn't a huge dilemma but when the yard is surrounded by oak trees and we've spent most of this fall picking up buckets of acorns and now that it's getting cold and the leaves (those millions of leaves) are falling there is a lot of work in front of us. Yes it's leaf raking season! Hey, don't get me wrong we love our house and where we live. But I really am starting to get a true dislike for oak trees!! Haha.
Hey it's 40 degrees outside and only about half the leaves have fallen from the trees. So do we rake the leaves now or do we go inside and make something that will warm us up from head to toe. We decided the leaves can wait. I mean Mother nature dropped them there maybe she will blow them away. And we don't want to fill up the landfill with our leaves!!! Plus, in a few weeks they will be covered by the snow. Just kidding we will see if we can hire someone to help us move these leaves to our compost pile!
Chicken and white bean Chili with Anaheim peppers (or Hatch chiles) is so easy to make. I know white beans might sound boring. Let me reassure you this is not a boring white bean chili there so many flavors and just a little bit of spicy.
Chicken and White Bean Chili
We used dry beans in this recipe because we had time. The great thing about this recipe you can swap out the dry ingredients with caned beans. Just use what you have on hand. We did a mixture of navy beans and Cannellini beans because that's what we had in the house. The great thing about this recipe is you can swap the ingredients for what you have in the pantry. So if you have great northern, navy, Cannellini, and baby lima beans in your pantry they will work great. Using the two different types of beans is fun with flavors and the different shapes and textures.
One of the best parts of this soup besides the great flavor and the ease to make. If you are on Weight Watchers this is only ONE (1) Point per serving. Plus, the serving sizes are big!!!!!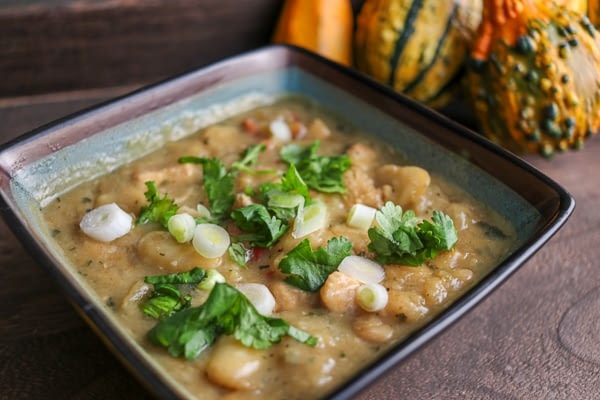 Chicken and White Bean Chili with Anaheim Peppers
Chicken and White Bean Chili is packed full of flavor, low in calories and is so easy to make.
Print
Pin
Course:
Main Course, Main Dish
Keyword:
Soup, White Bean Chili
Total Time:
1
hour
15
minutes
Ingredients
2

Chicken Breast

About 1 Pound

1

Cup

Navy Beans (Dried)

Or 2 Cans Navy Beans

1

Cup

Cannelli Beans (Dried)

Or 2 Cans Cannelli Beans

1

Medium

Onion

2

Cloves

Garlic

1 1/2

Tablespoon

Chicken Bouillon powder

1/2

Tablespoon

Dried Oregano

1

teaspoon

Ground Cumin

1

teaspoon

White Pepper

2

Cans

Green Chilies

4.5 ounces cans or use Fresh Anaheim/Hatch Peppers

32

ounces

Chicken Broth

1

Cup

Cilantro or Parsley

4

Green Onions
Instructions
Preparing Beans
This steps is only if Using Dried Beans. If using Caned Beans Skip this step

Soak beans overnight in water

After Beans have soaked. Drain
Prep Ingredients
Measure Spices (Cumin, Boullion, White Pepper, Oregano)

Cut Chicken Breast into bite size Piece
Thickner for Soup – If using Canned beans skip the first three steps. Go directly to Placing the beans into the blender.
Take 2 Cups of the beans and place in Sauce Pan

Add 1 Cup Chicken Broth and 1 Cup of Water

Bring to Boil turn down to Simmer until beans are nice and soft

Place Beans into Blender. Mix until smooth. If using Canned Beans. Take One Can of the beans and Puree in Blender.
Chili
While the 2 Cups of beans are cooking prepare the chili

Place Olive Oil into Stock Pot. Add the Onions and Garlic. Cook until onions start to soften about 4 minutes

Add Spices and Chicken to the Onions.

Cook until Chicken until it has all turned white. About 5 minutes

Add 4 cups of water and the rest of the beans

Bring to Boil and cook for about an 40 minutes to one hour. Until beans are soft.

Add the Pureed Beans to the Chili. Cook for 10 minutes

Stir in the Chili peppers to the Chili
Serving Chili
Roughly chop 1/2 cup of cilantro
Notes
If using Canned Beans this Chili will be ready in about 30 minutes.   
Nutrition
Calories:
223
kcal
|
Carbohydrates:
27
g
|
Protein:
22
g
|
Fat:
3
g
|
Saturated Fat:
1
g
|
Cholesterol:
48
mg
|
Sodium:
1303
mg
|
Potassium:
704
mg
|
Fiber:
11
g
|
Sugar:
5
g
|
Vitamin A:
282
IU
|
Vitamin C:
28
mg
|
Calcium:
78
mg
|
Iron:
3
mg
Pin Recipe
The post Chicken and White Bean Chili with Anaheim Peppers appeared first on Belly Laugh Living.
0 comments