Creamiest Crockpot Chicken and Rice
The Creamiest Crockpot Chicken and Rice is so easy to make in your slow cooker and no soup can is required! Just add frozen veggies, sour cream and cheese. Jump to Recipe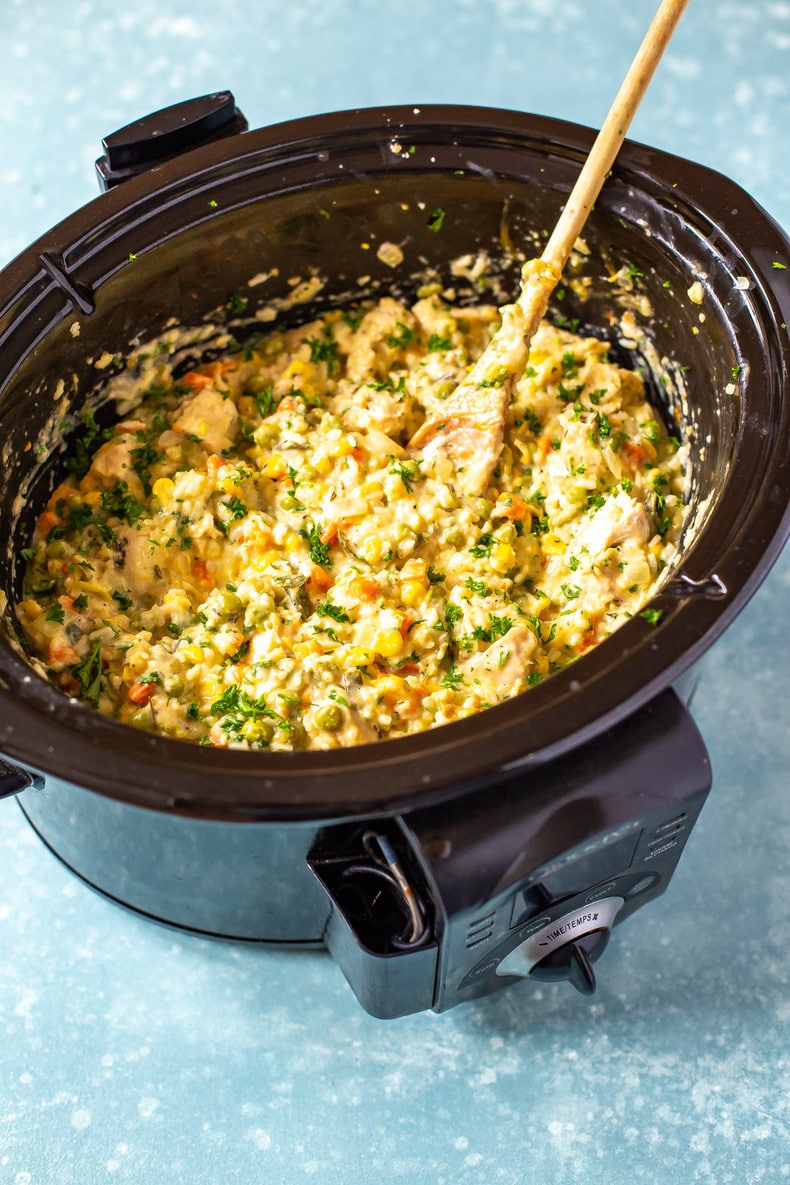 Ingredients in crock pot chicken and rice
You only need a pound of chicken breast for this meal because you will be dicing it. As you can see, its a budget-friendly recipe. Besides your diced chicken breast and long grain rice, you will need the following ingredients:
Yellow onion
Frozen veggies
Chicken broth
Sour cream
Cheddar cheese
How to make crock pot chicken and rice
Because this is made in the crock pot, you just put everything together and let it work. There is very little prep work for this, especially if you are using frozen veggies.
You can choose to dice your chicken breasts first or you can shred them after they have cooked. Dice any veggies you are using to about equal size so they cook evenly. And while it is certainly not required, if you want to increase the flavor of your chicken, brown it in a skillet first. This locks in all the moisture and flavor.
Otherwise, follow these steps for cheesy chicken and rice:
Spray the pot with cooking spray
Add all the ingredients that will be cooked in the crock pot. Make sure all the rice is submerged. If its not in the liquid it may not cook completely.
Cook on high for four hours or low for eight.
Stir in sour cream and cheese just before serving
What type of cheese to use
I like cheddar cheese in this chicken and rice crock pot recipe. It has a full flavor and melts smoothly. It doesnt become a liquid because of its semi-hard texture, but will be creamy in this dish. Other cheese that will melt into the chicken and rice and create that smooth creamy flavor are:
Provolone
Monterey Jack
Colby
Swiss
Gouda
What type of rice to use
Long grain white rice is fluffy and dry when cooked because of its low starch content. It will keep its shape in the crock pot and not turn your meal into a mushy mess like some other rices.
When you dish it out, it will separate easily and not clump together. Types of long grain white rice include American long grain, Basmati and Jasmine.
There are also long grain brown rice options. These take a little longer to cook, but you can use them as well.
Keep in mind that in a crockpot rice requires a two to one ratio. There must be at least twice as much liquid as rice.
Ingredient substitutions
There are several ingredients you can swap to make this recipe different each time you make it.
Choose a different cheese based on the guide above.
Use Basmati or Jasmine rice
Choose different blends of frozen vegetables
Add cream of mushroom soup or cream of chicken soup to the broth
Give it some kick with paprika and chili powder
Try some seasonings like mint and cardamom
Add a dash of lemon juice
Use boneless chicken thighs instead of breasts. Or try this recipe with turkey.
Using frozen chicken
It is not recommended to put frozen chicken in a crock pot. It takes too long for the chicken to reach a safe temperature and increases the risk of harmful bacteria in the food.
You can make this same recipe in the oven and could use frozen chicken. However, if you cook the chicken breasts whole you will have to remove them from the pan and shred them before serving.
It is also safe to put frozen chicken breast in an Instant Pot. The chicken heats and cooks so quickly, it does not have time for bacteria to develop.
Adding more vegetables
An easy way to change up this crock pot chicken and rice recipe so you can use it in your regular rotation is to choose different veggies. Try some of these ideas.
Choose a different frozen veggie blend
Bell peppers
Broccoli
Tomatoes
Green beans
Jalapenos
Carrots
Peas
Storing and reheating
You can keep this chicken and rice in the refrigerator for three days. It makes great leftovers for lunches. Reheat on a low power in the microwave until warm. If the rice is starting to dry out a little, add a sprinkle of water to the dish before reheating.
Freezing crock pot chicken and rice
You can freeze this whole meal together. It will keep for about a month. Combined with the other ingredients, the rice will lose some of its texture.
Another way to turn this into a freezer meal is to cook the chicken and vegetables and freeze that separately from the rice. Rice freezes well independently and reheats to the right consistency.
You could also make a fresh pot of rice in your Instant Pot the day you want to make this meal and combine it all just before eating.
More easy crockpot recipes
Meal prep tools for this recipe
Meal prep challenge
If you'd like some more help with meal planning, then you'll love my free 5-day meal prep challenge! It's basically a free course that will teach you how to meal prep and cook healthy meals at home with some PDF bonus materials. Sign up for free below:
FREE MEAL PREP CHALLENGE!
Subscribe for my free 5-day meal prep challenge complete with printable PDF resources!
Your name:
Your email:
Creamiest Crockpot Chicken and Rice
The Creamiest Crockpot Chicken and Rice is so easy to make in your slow cooker and no soup can is required! Just add frozen veggies, sour cream and cheese.
cooking spray
1 yellow onion, diced
2 cups frozen vegetables
1 cup long grain white rice
1/2 tsp each salt & pepper
1 tsp dried thyme
2 cloves garlic, minced
1 tbsp Dijon mustard
1 lb chicken breasts, diced
2 cups chicken broth
1/2 cup sour cream
1 cup cheddar cheese
Parsley, for garnish
Spray crockpot with cooking spray, then add all ingredients except for sour cream, cheese and parsley in the order in which they are listed. Make sure to push rice down underneath liquid as much as possible.

Cook on high for 4 hours, or on low for 8 hours, stirring 1-2 times midway through cooking time.

Stir in sour cream and cheese at the end of cook time, stirring well to combine.

Serve garnished with fresh parsley, and enjoy!
The post Creamiest Crockpot Chicken and Rice appeared first on The Girl on Bloor.
Click here if you have any questions
See our home page or latest news
Looking to buy or order products on sale now.
0 comments