This vegetarian oyster mushroom soup is super flavorful and satisfying. It is made with vegetables, herbs and pasta, so can be served as the main course with a salad on the side. You can easily turn it into a gluten-free recipe.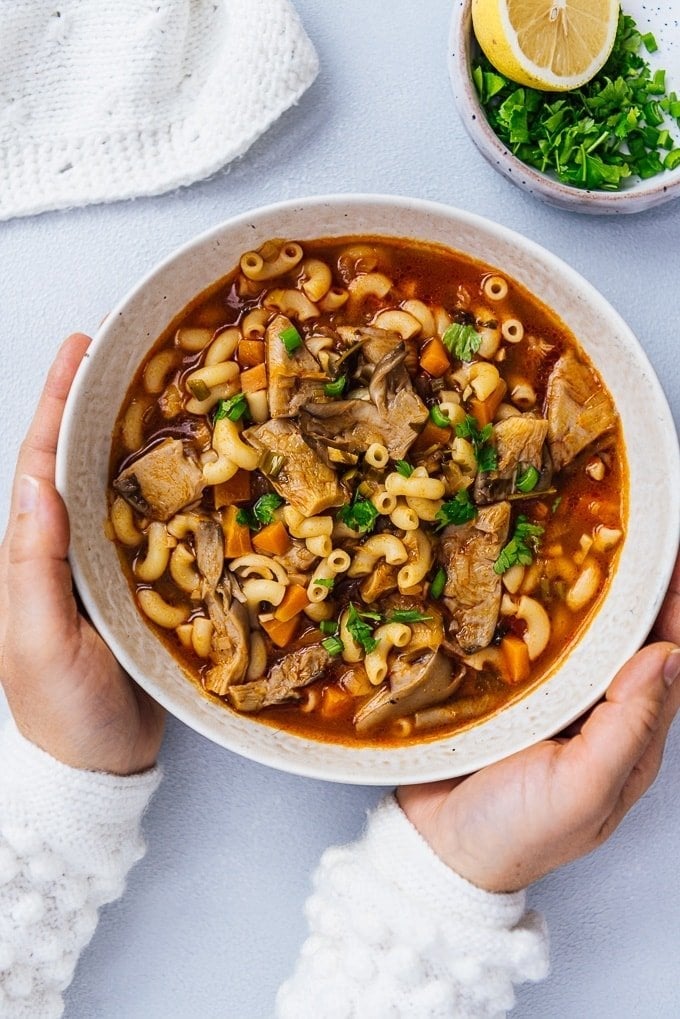 Oyster mushrooms are our favorite type of mushrooms because of their meaty texture and unique flavor. So we love to create recipes with them. And our chicken noodle soup garnished with radishes inspired us when making this mushroom soup.
Looking at the texture of the soup, one might think that it is a chicken or beef soup because the pieces of oyster mushrooms in the soup really look like a type of meat. Especially kids wont believe it is a vegetarian soup.
As for the taste, it is rich and soooo good thanks to the combination of all the flavors in the pot.
If you havent tried an oyster mushroom recipe yet, this soup will be a great start!
WHAT GOES IN THIS VEGAN MUSHROOM SOUP?
Olive oil
Green onions
White onions
Garlic
Carrots
Tomato paste
Fresh oyster mushrooms
Parsley
Black pepper
Salt
Pasta
Lemon juice
Hot water
NOTES ON THE INGREDIENTS
You can use whatever vegetable you have on hand. Leeks, celery, spinach and potatoes are all fine. If you use potatoes, either leave the pasta out or use a smaller amount so that you dont end up a very starchy soup.
It is the same for parsley. You can use your favorite herb instead. Fresh dill or thyme could be good substitutes.
If you are looking for a gluten-free soup recipe, omit pasta or use a gluten-free type of pasta.
If you want your soup vegan, make sure the pasta you use doesnt contain eggs. So please read the ingredients label on the package.
If you want, you can use vegetable broth instead of plain water.
HOW TO MAKE FRESH OYSTER MUSHROOM SOUP
It is a very easy soup recipe with three steps.
First, cook the vegetables. Heat olive oil in a pot and cook chopped onions, green onions, carrots and garlic together until tender. Add in tomato paste and stir well. Cook it for 2 minutes.
Second, toss chopped oyster mushrooms and parsley in the pot and sprinkle salt and pepper. Saut them together over medium high heat for about 10 minutes. It will release some water.
Finally, toss in pasta, lemon juice and hot water. Bring it to boil and let it simmer for about 15 minutes. Serve it with chopped parsley and green onions on the top.
FAQs ABOUT OYSTER MUSHROOM NOODLE SOUP
Do you need to cook the pasta before adding it to the soup? No, you dont. Just put it dry. It cooks well with all the other things in the pot thanks to the broth inside.
What is a good substitute for pasta? You can use more vegetables like potatoes, spahetti squash or zucchini. Another substitute could be rice. But the amount will change for sure. Use cup rice for this recipe.
Are oyster mushrooms good in soup? Yes, they are. Saut them for a few minutes before pouring the water into the pot. This will help them release their juice and the mushrooms get more flavorful this way. If you put them at the sime time with water, you will feel like you are eating steamed mushrooms.
Can I make this soup with other mushrooms? Yes, you can. Portobello mushrooms, cremini mushrooms, white button mushrooms, shiitake or porcini mushrooms all work fine. You can even make a combination of all these.
Can I use dried mushrooms? Yes you can. Rinse the dried mushrooms well. Put them in a bowl and then pour very hot water over them. Let them soak for 20-30 minutes and then strain. Save some of the liquid to use in the soup for more flavor. You can even combine fresh oyster mushrooms and dried mushrooms for this soup.
Can I use wild oyster mushrooms for this recipe? Yes, you can use any type of

edible wild mushrooms

, but you might need to consult an expert to identify which ones are edible and which ones are poisonous.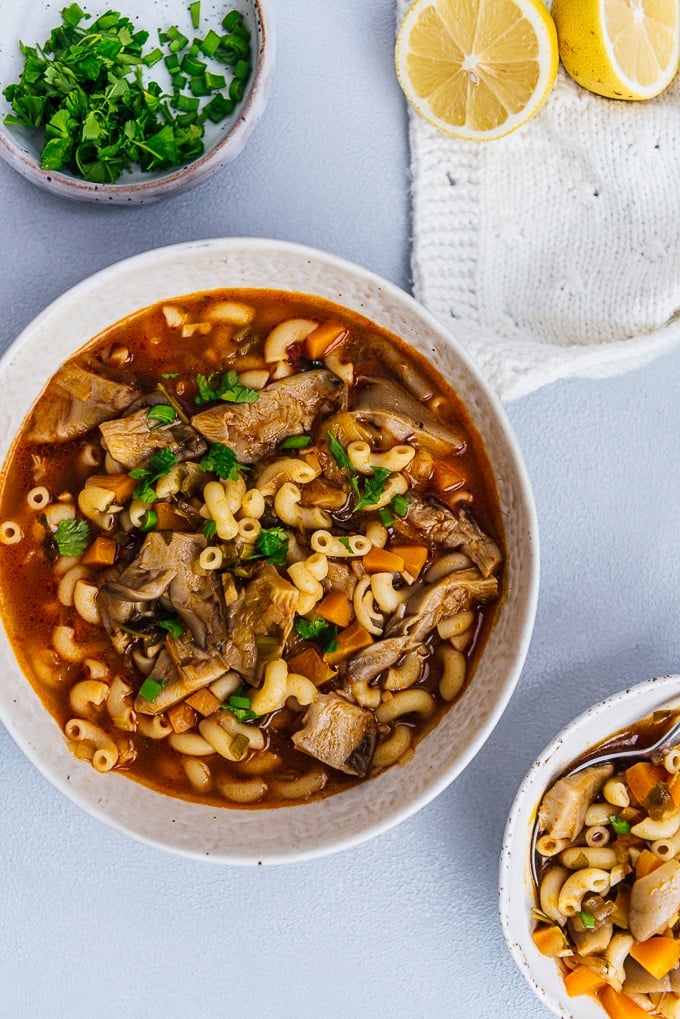 OTHER RECIPES WITH OYSTER MUSHROOMS
OTHER MUSHROOM RECIPES
OTHER VEGAN SOUP RECIPES
Print
Oyster Mushroom Soup
A super flavorful vegan soup with oyster mushrooms, vegetables and pasta.
Author:

Yusuf

Prep Time:

10 minutes

Cook Time:

25 minutes

Total Time:

35 minutes

Yield:

6

Category:

Soup

Method:

Cooking

Cuisine:

American
Ingredients
1 tablespoon

olive oil

2

green onions, chopped

2

medium white onion, diced

2

colves garlic, chopped

cup

carrots, chopped

1 tablespoon

tomato paste

2 cup

s oyster mushrooms, chopped

2 tablespoon

parsley, chopped

1 teaspoon

ground black pepper

teaspoon

salt

cup

pasta

tablespoon

lemon juice

5

and cup hot water
Instructions
Heat olive oil in a large pot.
Cook green onions, White onions, garlic and carrots until tender.
Add in tomato paste. Stir well and cook for 2 minutes.
Toss in chopped oyster mushrooms, parsley, salt and pepper. Cook over medium low heat for 10 minutes, stirring occasionally.
Toss in dry pasta, lemon juice and hot water. Bring it to boil and let it simmer for 15 minutes.
Serve with chopped fresh parsley and green onions on the top.
Keywords: oyster mushroom soup, oyster mushrooms recipe
The post Oyster Mushroom Soup appeared first on Give Recipe.
This article originally published by Yusuf on Tue, 14 Jan 2020 13:28:35 +0000 at _https://www.giverecipe.com/oyster-mushroom-soup/
0 comments