Restaurant Style Mexican Rice
Little bits of soft cooked potato and carrot set this Restaurant Style Mexican Rice apart from the others. Light, fluffy, and perfectly seasoned just like at our favorite Mexican restaurant.
This post was originally published on January 11, 2014. It has been updated with new images.
Theres a little Mexican restaurant that we frequent on a regular basis and it may seem odd, but one of the things that brings me back time and time again is their heavenly rice.
During our many meals there Ive spent much of my time contemplating why this Mexican Rice is so incredible. Short of chasing after the sweet little lady that prepares it, I was bound and determined to figure it out for myself.
How to Make Restaurant Style Mexican Rice
Ive come to find out that adding veggies is the traditional way of preparing Mexican rice and it makes a subtle but important difference. To attempt to mirror the rice of my dreams, Ive stuck to just potato and carrot here but an assortment of other veggies can be added if you are so inclined. Frozen corn or peas, mushrooms, zucchini, and bell pepper would all be delicious.
Its important to toast the rice briefly in a little vegetable oil before adding low-sodium broth (chicken or veggie is fine). It helps the grains open up a bit and absorb flavor from the seasoning. The broth is added last and then the ingredients simmer together until all of the liquid is absorbed, the vegetables are perfectly tender, and the rice is light and fluffy.
I always keep a jar of reduced-sodium Better than Boullion on hand. I love that I can mix up just exactly how much broth I need for a given recipe and control the strength. Its good stuff.
Is Mexican Rice Spicy?
An authentic Mexican Rice recipe would most likely call for adding serrano chiles but Im kickin it gringo style with this one. Serranos are muy caliente and without themthere is only a very mild kick from the Homemade Taco Seasoning Mix (or feel free to substitute a store-bought blend).
Since theres typically some heat in the other items on my Mexican-inspired menus we want the rice to be mild so we can shovel it in our faces with wild abandon.
I have some big cilantro loving folks in this family who I swear could eat it by the handful. I like to garnish my Restaurant Style Mexican Rice with some whole sprigs for the cilantro fans but keep it easy to avoid for those who are cilantro-phobic.
This recipe results in light, fluffy, savory perfection. Absolutely the best from scratch Mexican Rice Ive had outside a restaurant.
What to Serve with Mexican Rice
This rice is on regular rotation and I almost always include it when I do a Mexican-inspired menu. Here are just a few of my favorite ways to serve it.
Restaurant Style Mexican Rice
Little bits of soft cooked potato and carrot set this Mexican rice apart from the others. Light, fluffy, and perfectly seasoned.
3 tablespoons vegetable oil
1 1/2 cups long grain white rice
1/2 cup diced onion
1 large carrot (diced (approximately 1/2 cup))
1 Yukon Gold potato (diced (approximately 1 cup))
1 teaspoon minced garlic
1 teaspoon Homemade Taco Seasoning Mix
1/2 teaspoon salt
8 ounces tomato sauce
3 cups low-sodium chicken broth
Cilantro for garnish (optional)
Heat oil in a skillet or saute pan over medium-high heat. Add rice and cook, stirring occasionally for 3 or 4 minutes, until lightly golden brown. Reduce heat to medium and add the onion, potato, carrot, and garlic. Season with taco seasoning and 1/2 teaspoon salt. Cook and stir for about 2 minutes. Add the tomato sauce; cook and stir for a minute or two and then slowly stir in the chicken broth.
Return heat to medium-high and bring to a boil, then reduce heat to low, place a lid on the skillet and simmer for 25 minutes. Remove from heat and allow to sit for 5 minutes, covered. Remove cover, fluff with a fork, garnish with cilantro (optional) and serve.
Optional: Add additional vegetables like frozen corn or peas (thawed), mushrooms, zucchini, bell pepper in addition to or instead of the potato and carrot.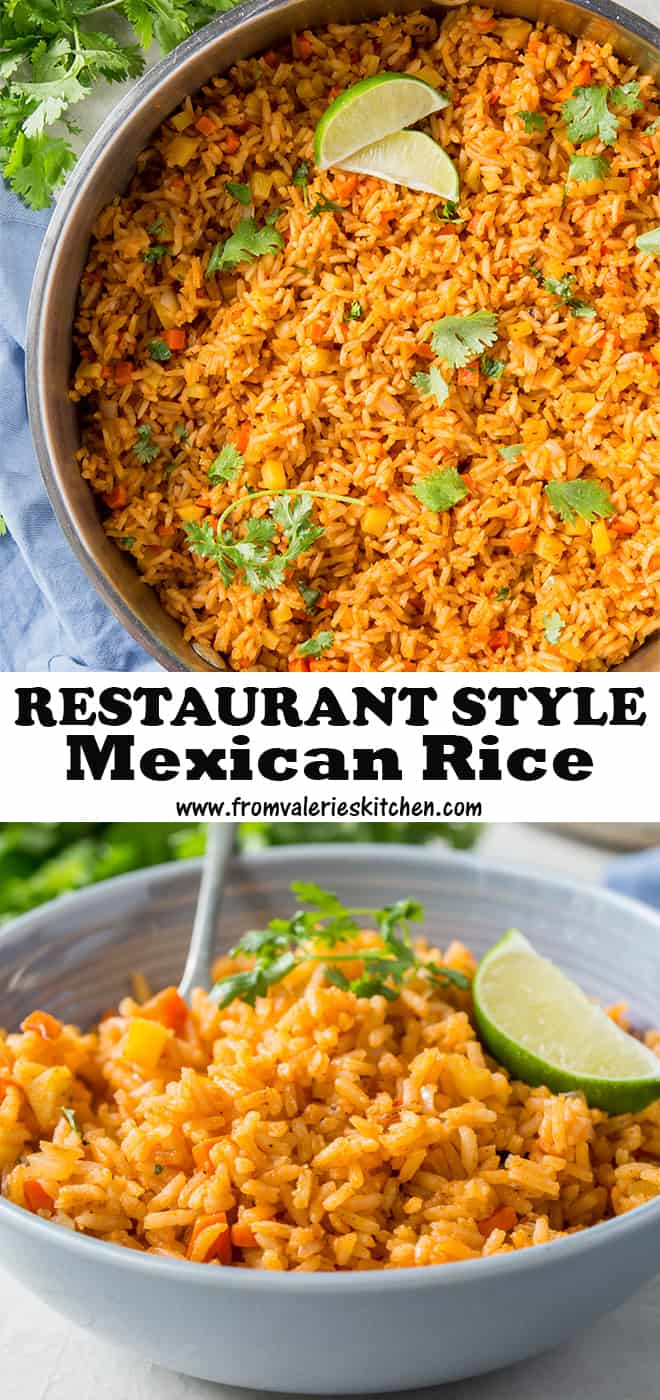 The post Restaurant Style Mexican Rice appeared first on Valerie's Kitchen.
Click here if you have any questions
See our home page or latest news
Looking to buy or order products on sale now.
0 comments