Rolled Turkey with Quinoa Cranberry Stuffing
This Rolled Turkey with Quinoa Cranberry Stuffing is the ultimate special occasion mealabsolutely delicious and truely a feast fit for a crowd on Christmas Day.
Now before you click away thinking there is no way you can be bothered rolling meatheres the thing, you dont have to. Ive made a rolled turkey of sorts every Christmas, because I find it easier to cook than a whole bird. So I just make the stuffing and Ive always found the butcher I buy my turkey from, really accomodating in boning and rolling it for me.
This super simple Rolled Turkey with Quinoa Cranberry Stuffing will wow any crowd! I cant wait to hear how you love it.
Its been over a year in the making the Well Nourished Family membership is finally here!! Im beyond excited to finally be able to share it with you.
Ive been working with a brilliant tech team on developing some seriously clever tools to help you to consistently eat well, without overwhelm or food wastesaving time and money! To celebrate the launch, Ive added a heap of new, delicious and easy to make recipes to the membershipand Ill be posting a new members only recipe, every single week too.
CLICK HERE to get all the details! But because its the first launch, Im going to be capping the numbers and offering you a special introductory price (for the next week only).
Plus my 30 day money back guarantee means you canjump into the Well Nourished Family Membership and try everything out for the month, risk free. CLICK HERE to find out more.
PS when you become a member, Ill plan your Festive Feast in time for Christmas too!
Take a look at the variations (below the main recipe) for suggestions to alter the recipe to suit many specific dietary requirements.
Rolled Turkey with Quinoa Cranberry Stuffing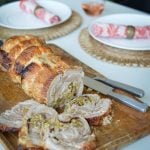 This Rolled Turkey with Quinoa Cranberry Stuffing is the ultimate special occasion meal truely fit for a crowd.
Stuffing
60 g butter
1 red onion (- finely chopped)
4 stalks celery (- finely chopped)
3 cloves garlic (- minced)
250 ml chicken stock or broth ((

1

cup))
180 g quinoa ((

1

cup))
cup fresh sage leaves (- finely chopped)
3 tbsp flat leaf parsley (- finely chopped)
80 g pistachio nuts (- toasted ( cup))
60 g dried cranberries ((

cup))
4 tbs almond meal
1 tsp sea salt
1 free-range or organic egg
Ground black pepper (- to taste)
Turkey
7 kg free-range or organic turkey (- whole (approx.)**)
2 tbsp olive oil (- extra virgin)
Sea salt and freshly ground black pepper (- to taste)
500 ml water
2 stalks celery (- diced)
2 carrots (- diced)
1 red onion (- diced)
4 cloves garlic (- diced)
Gravy
60 ml red wine (( cup))
60 ml bone broth (- optional, only if needed ( cup))
2 tsp cornflour ((optional, only if you feel you'd like a thicker gravy))
1 tbsp water (- to form a slurry with the cornflour)
Stuffing
In a medium sized pot, melt the butter and sweat the onion and celery (with the lid on) until its softened (but not browned). Set aside in a mixing bowl.

Now add the quinoa (make sure it's very well rinsed or soaked overnight to remove the bitter coating) and the broth. Bring to the boil then turn down to simmer with the lid on. It's cooked when the quinoa has a little white tail and the broth is absorbed. This takes about 10-15 minutes.

Now mix all the stuffing ingredients together. Taste and adjust the seasoning before adding the egg and mixing through.
I personally take the stuffing to my butcher to de-bone the turkey and roll it for me. If you want to tackle this yourself, there are heaps of YouTube tutorials on boning and rolling a whole turkey.
Once the turkey is boned, it will weigh approx. 4 kg. Work off around 30 mins per kg.

Pre-heat oven to 200C / 400F.
Turkey
Place the turkey on a large baking tray. Pat the skin dry and drizzle with olive oil and then season well.
Pour the water into the base of the roasting dish and add the celery, carrots, onion and garlic.
Cover the turkey with baking paper and then tightly wrap the baking dish in foil (so it retains the moisture).

Cook for 1.5 hours then remove the foil and baking paper and increase the heat to 220C / 425F. Cook for another 20 minutes to brown the skin. ***

The turkey is cooked when the juices run clear when pierced. I also use a meat thermometer to ensure it is cooked.
Gravy
Set the turkey aside on the chopping board (loosley cover with foil) while you make a gravy using the pan juices. Pour all of the juices and vegetables into a small pan. Bring to the boil and add the red wine.

Let it simmer rapidly to reduce and thicken. You may like to add more stock to the pan to increase the amount of gravy you make.
You can strain it or puree it with the vegges in it (or just enjoy it chunky). Taste and season to taste.

If you feel you'd like a thicker gravy, mix the optional cornflour with the tablespoon of water to form a slurry, an mix in with the gravy, stirring until it thickens.
Turkey Size & Cooking Times
** When deciding on the size of the turkey you buy, work off about 250 g per person (remembering the boned turkey will weigh a lot less than the whole my 7kg turkey became just over 4kg). I must say I like to over-cater and like having leftovers for Boxing Day. This recipe would definiately stretch to 16 people.

***The cook time will vary a little depending on how thick it is rolled so check the meat frequently. If it's not cooked, add 10 minutes at a time.

I always ask the butcher for the bones and carcass which makes the most delicious bone broth.
Egg-free
Omit the egg. It wont bind quite as well, but it will still be delicious.
Onion-free
Replace the onion with a small bulb of fennel.
Garlic-free
Simply omit the garlic.
Fructose friendly
Just omit the cranberries.
Nut-free
Replace the pistachios with toasted pumpkin seeds or just leave them out.
Id love to hear how you love this recipe. Post a comment below if you make it or if you have any questions!
Click here if you have any questions
See our home page or latest news
Looking to buy or order products on sale now.
0 comments